Our vision is a world free from MND and we are committed to playing a key role in the history of ending MND. The MND Association has over 30 years of experience in funding the most promising research into this condition, which has resulted in us becoming a leader in the identification and funding of cutting-edge MND research both within the UK and across the world.
We have a research strategy that aims to promote research into the causes, treatments and a cure for MND.
To achieve a world free of MND we fund a research programme that seeks to address four key strategic themes:
Identify therapeutic 'targets' - To understand the causes of MND and focus in on the pivotal biochemical processes involved in the disease that will provide a starting point for the development of new treatment strategies.
Develop a treatment pipeline - To identify where directed investment can help drive these fundamental discoveries through the various stages of treatment development, from laboratory to clinic.
Understand clinical progression - To develop a detailed understanding of how the disease manifests and progresses in humans, in order to ensure that fundamental laboratory research can be clearly linked to the 'real world' events occurring in people with MND.
Improve standards of care - To ensure that the clinical management of MND is informed by the priorities of people with MND and their families and supported by a strong evidence base.
These activities are underpinned by three essential supporting themes:
Develop the research workforce - To attract, train and retain the 'brightest and best' laboratory and clinical researchers to work in the MND research arena.
Facilitate exchange of knowledge and information - To ensure that new data, ideas and discoveries are shared quickly and effectively, speeding up research progress and fostering a culture of collaboration.
Build effective partnerships - To maximise the impact of our research funding and influencing activities through close working relationships with leading research organisations - industrial, governmental and charitable - in the UK and beyond.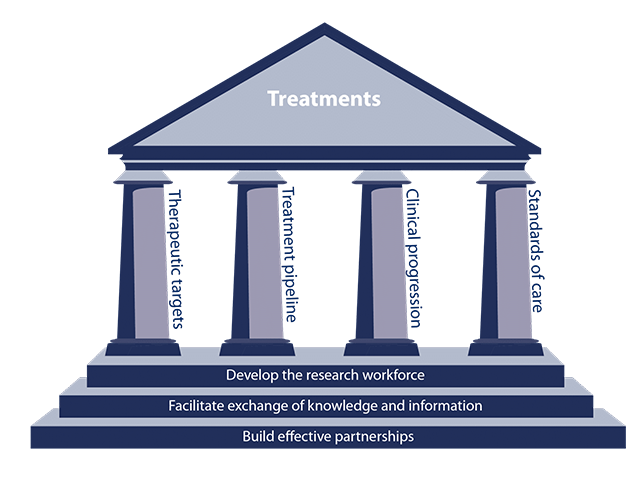 You might also be interested in...