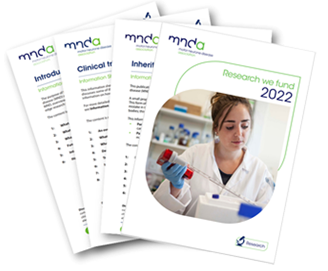 We produce a number of research information sheets for people living with MND, clinicians and health and social care professionals. All of our publications are checked for accuracy at the time of publishing and are reviewed annually.
All of our information sheets can be downloaded below, or ordered in a printed format from our helpline MND Connect.  You can also send an order using our printable order form. To see our full range of resources and publications, please see the MND information resources page.
Information on what happens in motor neurones, possible causes of MND, types of MND research we fund, and ways to find out more about current MND research.
How can MND be inherited, the importance of taking family history, and what does having MND mean for a family.
Genetic testing and how diagnosis of inherited MND can affect insurance.
Options available to family members affected by MND who may wish to start a family.
Facts about unproven treatments and some issues to consider before undertaking such treatments.
How and why clinical trials are conducted, and the process involved.
Portfolio of the current research projects funded by the MND Association.
What are stem cells, how they might be used to create new models of disease, and testing stem cells as a potential treatment.
What are biomarkers, how are they useful and are there any MND biomarkers?
The process behind drug approval after a clinical trial, and how a drug not currently licensed to treat MND can be accessed by a patient.
How tissue donation may be useful for MND research, what is the process if you wish to donate your brain and spinal cord, and contact details for local tissue banks.
What happens to a DNA sample that was deposited as part of the MND Association's DNA Bank.
What are statins, and can they affect the likelihood of developing MND and its progression?
Information about finding MND research involving animals, and the reasons for and principles of such research.
You may also be interested in...