The MND Association was established in 1979 by a group of families affected by the disease. With little information, co-ordinated care or support available they felt 'isolated' and 'utterly helpless'. They were 'in the dark' and aimed to fill the void of care and support and encourage research into the disease.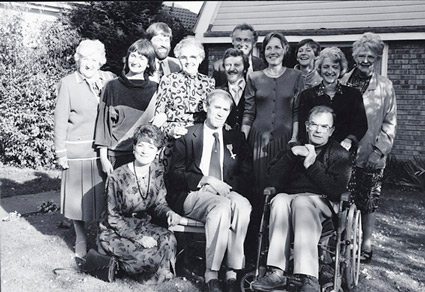 40 years on the Association funds the co-ordination of life-changing care for people living with MND, and wide-ranging support for families and carers. We are also currently investing around £16 million in a global research effort to discover causes, potential new treatments and ultimately a cure.
This year we have marked our 40th anniversary with a series of events to say thank you to the amazing people who support and volunteer for us, and to showcase the incredible artistic talent of those living with and affected by the disease.
On Global MND Awareness Day, 21 June, around 250 volunteers joined us at Boughton House for a garden party. They were treated to a tour of the House by The Duke of Buccleuch before being given the opportunity to spend time in the gardens, meet the Association's founders, hear from research scientists and listen to speeches by Jane and Lucy Hawking, the wife and daughter of the Association's late patron Professor Stephen Hawking.
More than 90 pieces of art by people living with or affected by motor neurone disease (MND) were showcased at an exhibition between 2 and 6 October at the gallery@oxo on London's South Bank.
Curated by the Association, 'Art Beyond Limits' aimed to drive awareness of MND and all the work on display was available for sale, with a percentage of the proceeds being donated to the MND Association. Among the 14 artists involved with the exhibition were Simon Adams, Sarah Ezekiel, Miles Pilling, Lucy Pittaway, Dr Peter Scott-Morgan, David Shaw and Ron Wheeler. The exhibition space also hosted two Research talks from our Director of Research Brian Dickie.
More than 120 people attended a Private Viewing which culminated in an auction of donated pieces donated by seven of the featured artists and hosted by Antiques Road Trip presenter Timothy Medhurst. Good-natured bidding wars boosted the total raised to over £15,000.
What a wonderful evening yesterday! @SarahEzekiel with some of her Eyegaze art at the @OxoTowerWharf Gallery. Sarah's painting "Woman's Day" included in the auction, sold for £2,000 raising money for @MNDassoc. It was dedicated to Janis Parks who we remember fondly. pic.twitter.com/h3gGvLYm9W

— Timothy Medhurst (@TimothyMedhurst) October 4, 2019
We were delighted to see the exhibition given 4 out of 5 stars in a review in The Guardian, as well as a full-page write up in the Sunday Express, amongst other media coverage.
MND Association supporter and patron of our North London Branch Lily James also highlighted the exhibition on a huge digital poster in Leicester square.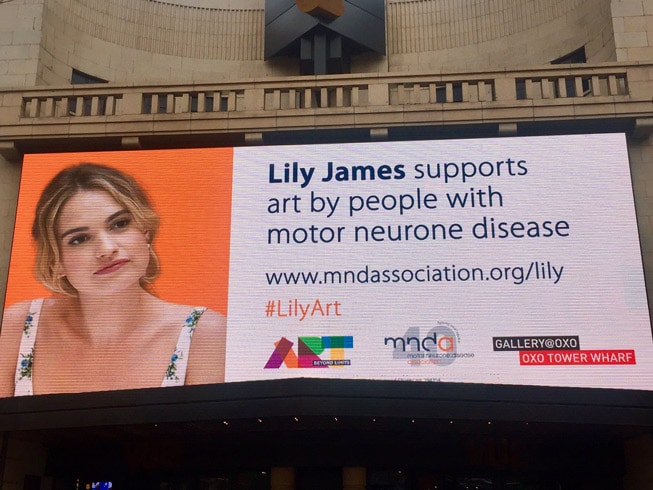 Our incredible Branches and Groups also hosted events to mark our 40th. From lighting up buildings to quizzes and cake sales, take a look at some of the ways this milestone was recognised in the Twitter moment below.
Chief executive Sally Light spent the Association's 40th anniversary on the 6 October meeting visitors to the 'Art beyond limits' exhibition and later summed up her feelings in a tweet:
"A huge thank you to everyone that has volunteered with us, served on our Board, worked for us, fundraised for us or supported us in any way in that time. But mostly to those with MND and their families that inspire us every day and make us impatient to do even more".