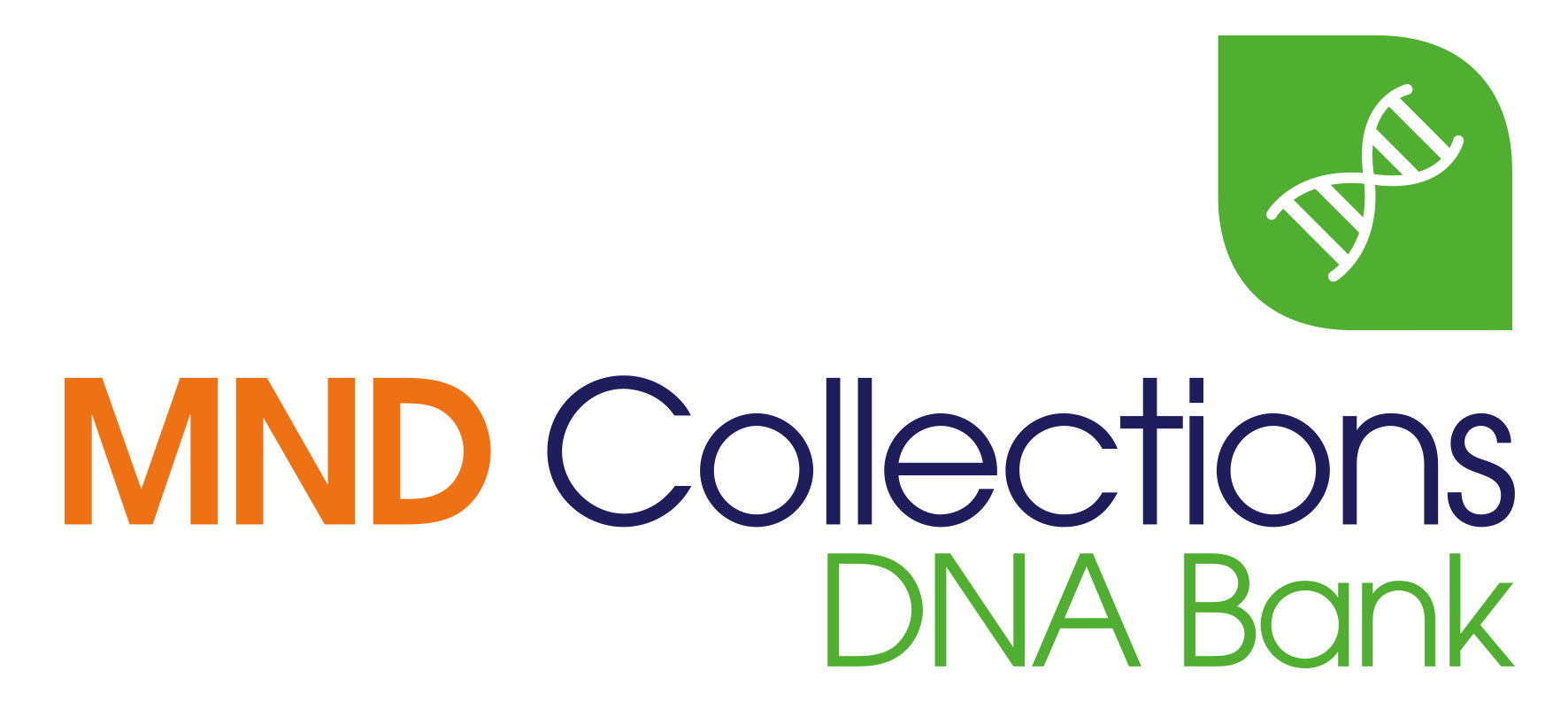 Samples 
All samples within the DNA Bank are stored as DNA, extracted from blood samples from participants. DNA samples are managed and stored at the Centre for Integrated Genomic Medical Research Biobank (CIGMR Biobank), in Manchester, UK.
Samples will not be released without the approval of the MND Association. Thus all enquiries for access should be made via [email protected].
Costs

The costs of obtaining the samples are met by the researcher.

Current approximate costs (payable to CIGMR) are as follows (these will be updated following confirmation from CIGMR of 2020 prices):

~ £1.50 per sample

~ £200 withdrawal fee (per order)

~ £30 shipping for UK destinations
Sample Information

Normalised plates of 100ng/ul plus a stock aliquot is the standard for most samples.
Concentration has been assayed by picogreen.
Where stocks of genomic DNA are low/sample is unavailable, researchers may be offered DNA from cell lines or whole genome amplification (WGA) instead.
Further details such as the age and gender distribution and affectation status of the samples held within this collection can be found in the DNA Bank paper (link at bottom of page).
The DNA Bank contains the following samples:

~ 1500 from people with MND

~ 1000 healthy controls

~ 500 family members of people with MND

Over 90% of people with MND in the DNA Bank have a diagnosis of amyotrophic lateral sclerosis (ALS), with cases of progressive muscular atrophy (PMA) and primary lateral sclerosis (PLS) representing less than 5% respectively.
Nine percent of participants with MND have a known family history of the disease.
Controls are spouse / partners of the participants with MND
Family members were collected in two ways: from parents and siblings of those with no family history of the disease (as 'genetic trios') and from unaffected members of families where there is a known history of MND.
Minimum Dataset

This will be sent with all samples that are requested. The fields include: age (at participation), gender, affectation status, diagnostic certainty (El Escorial status) and age of onset.
Extended Dataset

We prefer this to be accessed in collaboration with an MND Collections PI, where this is not possible, requests will still be considered.

Data available includes: Clinical history of disease, family pedigree, investigations and results and medications (see PDF for full list). This is a partially complete dataset i.e. not all fields are available for all samples (completion of fields varies for each sample).

If requesting the extended dataset, please consider which fields are most important, as the order of priority will affect the samples available to you.
How to apply for samples
Application Form

Please note that the minimum dataset is provided for all samples, but the extended dataset needs to be requested at the time of applying for access to the samples. Please also make sure to read the application process and terms and conditions of use before applying. If you have any questions, please email [email protected].
Application Process

You can find out more information about the application for process for MND Collections by clicking the button below. 
Summary Terms and Conditions of use

Access to the UK MND Collections is restricted to studies investigating motor neurone disease and related neurodegenerative disorders, including frontotemporal dementia.
Access to cell lines is limited to researchers based within the UK. However, access may be granted if the application/project is sponsored by a PI of the Collections. DNA samples and data are available to international researchers.
Generally, access to the Collections is for a time limited period, from the date of release of samples/data.
Applicants must have the necessary funding for the research they are intending to undertake.
Under no circumstances should the applicant attempt to identify or contact any of the participants.
Applicants must not release any material from the Collections to third parties without the explicit written consent of the MND Association.
Users are required to provide the MND Association with at least annual updates on the uses of samples or data from the Collections.
Authors of peer reviewed papers, reporting results from the use of the Collections, can apply for the payment of open access fees by the MND Association. Such research papers should be available within the Europe PMC repository within six months of publication of the paper.
Applicants must acknowledge supply of samples or data from the UK MND Collections in all methods of dissemination of the research arising from use of material.
Data should be deposited in a publicly accessible database on first publication or release of the data, whichever is soonest.