Location

Contact

Phone

Email
Welcome to the Suffolk Support Group
The group is run entirely by volunteers and aims to provide the best possible support to local people with MND, their families and carers.
Neurological Care Breaks Scheme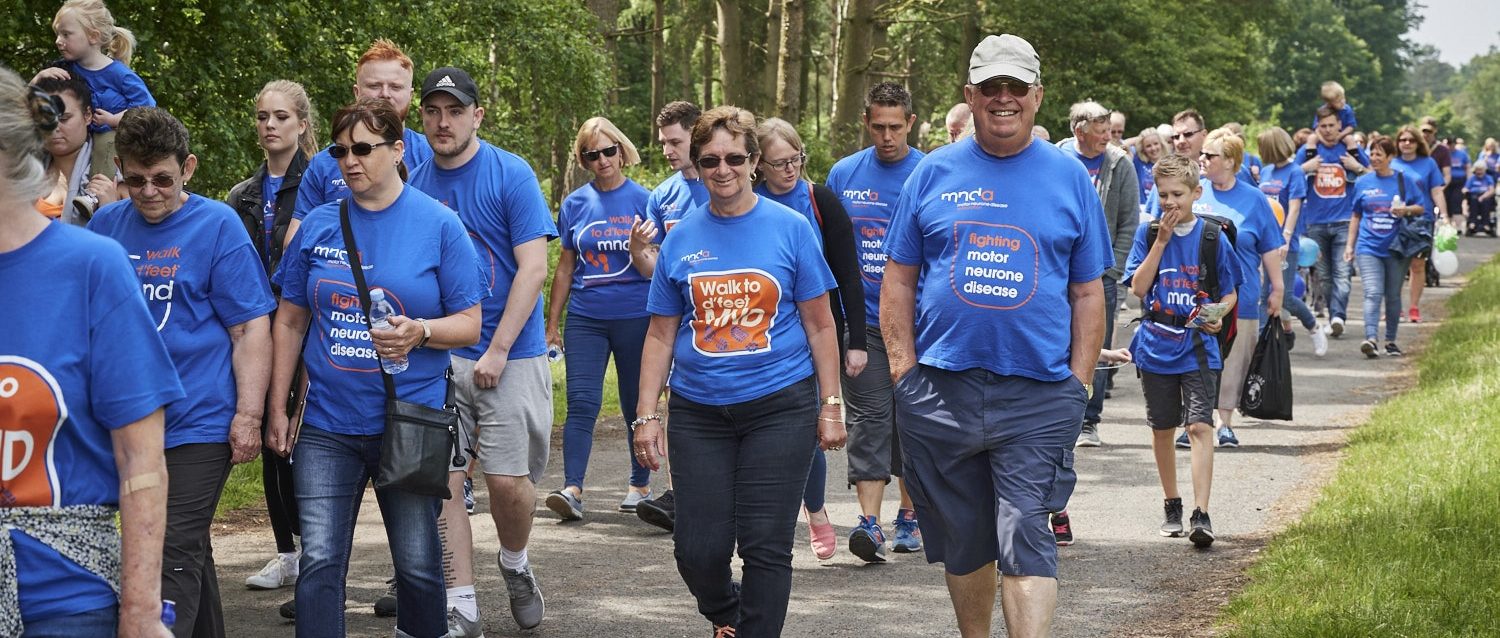 Latest News
Face-to-face support groups
Tea, coffee, and a catch-up (Ipswich)
Meet us with other families, MND Coordinator Kate Barber, and Association Visitor Gill Solway. All are welcome!
Location: Millennium Jubilee Hall, Millennium Way, Kesgrave, Ipswich, IP5 2EN
Time: 10.30am - 12.30pm
Dates: Tuesday 13 December - 2023 dates provided below!
Contact: Gill Solway - 07799 417604 / [email protected]
Virtual support groups
Virtual tea, coffee, and a catch-up (South East)
An informal meet up to share your stories, ideas, and meet other living with and affected by MND in the South East Region.
Location: Zoom
Time: 11am - 12.30pm
Dates: Tuesday 20 December - 2023 dates to be announced soon!
Contact: Liz Cooper - [email protected] or Dawn Pond - [email protected]
For virtual support group meetings, please get in touch with the dedicated contact for joining details and support.
2023 Support group meetings
Face-to-face support groups
Tea, coffee, and a catch-up (Hawstead)
Drink some tea or coffee, nibble some cake and chat with other families living with and affected by MND. Neurological nurses and Association volunteers will be there to meet and greet you. Soup and a roll will be served for the winter lunch time meetings.
Location: Village Hall, The Green, Hawstead, IP29 5NP
Dates: 18 January, 15 February, 15 March, 19 April, 17 May, 21 June, 19 July, 16 August, 20 September, 18 October, 15 November
Time: The start times range from 12pm to 2pm and vary depending on the month. Please be sure to check the blue events box for confirmation of start times
Contact: For further details, please contact Janet Oliver on 01359 241054 or [email protected]
---
Tea, coffee, and a catch-up (Ipswich)
Drink some tea or coffee, nibble some cake and chat with other families living with and affected by MND. Neurological nurses and Association volunteers will be there to meet and greet you. .
Location:Millennium Jubilee Hall, Millennium Way, Kesgrave, Ipswich, IP5 2EN
Dates: 10 January, 14 February, 14 March, 11 April, 9 May, 13 June, 11 July, 8 August, 12 September, 10 October, 14 November, 12 December
Time: 10.30am - 12.30pm
Contact: For further details, please contact Gill Solway on 07799 417604 or email [email protected]
Meet the team . . .
Liz Cooper - Area Support Coordinator

As the Area Support Coordinator for East Anglia, I lead on the provision of support to families and professionals via our national and local team including Association volunteers who are supporting families in Suffolk and across East Anglia. Along with my colleague Rob Wallis (Service Development Manager), Roger Widdecombe (Regional Fundraiser) and other regional and national colleagues in Campaigning, Communications and the National Care team we endeavour to hear the voices of and support all people affected by MND.

Over the years I have been overwhelmed by the commitment of our volunteers in all manor of roles including Association Visitors, Care Service Navigators and branch and group Committee Members. As a team we have had to adapt our ways of working during the pandemic including increasing telephone and online support to families. I hope this newsletter goes some way to introducing you to our small but amazingly supportive Suffolk Team, some having volunteered with us for over 30 years (sorry Janet, but I felt it had to be said)! We look forward to supporting you and working with you in the future and particularly look forward to seeing some of you again in person!
Gill Solway - Association Visitor

 

I'm Gill Solway and I've volunteered as Association Visitor for East Suffolk for nearly 3 years. The diagnosis of MND has been described to me as 'a grenade thrown into your life' and it affects not only the person with MND but also family & friends. Hopefully I can help to steer families through this initial barrage of information and then continue to support and advise for the times ahead.

I enjoy supporting the family as a whole, via phone, email or my latest hard learnt skill - FaceTime. Hopefully we can resume face to face visits at home (milk no sugar, thank you)! Doing this work has opened my eyes to the impact and difficulties of this disease and I'm learning all the time, but I also see courage, determination, humour and extraordinary love, care and devotion. It's a privilege to share in that.
John Scott - Association Visitor

My name is John Scott I've been a volunteer MND Association Visitor for West Suffolk for approximately 2.5 years.  My colleague Gill Solway and I cover the whole of Suffolk.  I am very fortunate to work with Gill who does an excellent job on the East of the County.

I think Gill has summed  up the role of Association Visitor extremely well.  It is a very rewarding role.  I will always do my very best to help people with MND,  their families and friends in whatever way I can.  I am lucky to be part of a small effective team under the Leadership of Liz Cooper.  The most important lesson I've learnt is the people diagnosed with MND do not have the gift of time- speed to get action in whatever way is necessary is absolutely vital
Janet Oliver - Suffolk Group Contact

I first became aware of Motor Neurone Disease in 1983 when a work colleague was diagnosed. The company I worked for supported the Association and we undertook several fundraising events and formed the Bury St Edmunds Branch in 1984. This eventually closed, but in 1992 I became aware of a Sudbury lady living with MND who had planned a meeting of anyone interested in setting up a new Suffolk Branch. I went along to that meeting, and, as they say, the rest is history.

Since then I have been involved with the Association in various capacities. Fundraiser, Secretary, Treasurer and my current role is contact for the Suffolk Area, whilst in recent years I have been attending the MND clinic in Bury St Edmunds and helping with the West Suffolk Support Group meetings held in Hawstead.
Kate Barber - Support Meeting Coordinator (East Suffolk)

"Most of you will already know Kate as one of your first contacts after diagnosis.  Before she came to be our MND coordinator there was no one to cohesively draw all the many health care professionals together to provide the advice and support you all deserve. Kate has been described by one person with MND as Mary Poppins and she certainly always opens that carpet bag and pulls out a solution for all the wide ranging issues she manages, always with care and compassion. I'm proud to call Kate my friend and colleague." - Gill Solway
Wendy Pott - Support Meeting Coordinator (West Suffolk)

 

Wendy Pott - Support Meeting Coordinator (West Suffolk)

I'm Wendy Pott and I have been a volunteer with the West Suffolk Support Group for the past three years. I took early retirement from working at the West Suffolk College to look after  my Husband who I lost to MND in 2017.  My main hobby is gardening but I also love reading and swimming and I'm lucky enough to have lots of friends who I spend time with and also foreign travel.  I'm always busy.

Together with Janet we arrange the monthly support group meetings at Hawstead Village Hall for anyone who would like to come be it people living with MND, their partners, carers and/or family.

My Husband used to thoroughly enjoy the meetings. We offer a friendly atmosphere where people can have tea and cake (or soup in the winter!)  and a general chit chat with everybody.  We periodically have speakers for part of our meetings where time is given for people to ask questions.  There are a number of publications on view for people to look at and should they need any further help or information we are there to guide them.  We do find that people like a good chat and a laugh in what is a difficult time in their lives which I personally can totally agree with.
Mark Gately - Campaigns Contact

I volunteered to help in the Suffolk Group as I spend a lot of time in the county. I am the Branch Chair and Campaigns Contact in North West Kent, so I thought it would be fairly easy to duplicate my Campaigns work over in Suffolk. In this role, I keep abreast of any problems in the Group area and further afield for National Campaigns and have contacted various Local Councillors and MPs requesting their support for our national campaigns and local issues.

I hope to assist with support meetings in the future as my home is a short drive to Hawstead. If you would like more information on how to get involved in campaigns then please do contact me.
Nicky McGreavy, Sarah Ward, Ursula Noyce - Community Neurology Specialist Nurses

 

We are your Community Neurology Specialist Nurses: Nicky Mcgreavy, Sarah Ward and Ursula Noyce. We cover the whole of West Suffolk, and our service covers office hours from Monday to Friday. Our role is to offer support, information and advice, and to refer onto other relevant health professionals, if needed. We work very closely with the Neurologist Dr Crawley, speech and language therapists, dieticians, Neuro-physiotherapy and Neuro-occupational therapy. We visit people at home and also see people in a clinic setting.

Before Covid-19, with MND Association volunteers, we ran a support group at Hawstead village hall. With positive feedback on the support and help from the group, we are hopeful we can resume this, with an upcoming catch-up in November!
Tom Wolstenholme - Newsletter Editor

I first became aware of the Association following my nan's diagnosis in early 2020, and like many who witness the impact of an MND diagnosis, it was difficult to come to terms with our nan's future. However, what was incredible, was seeing firsthand the support her local Norfolk branch made to assure her wellbeing and accommodate life with the disease.

With a great appreciation for the charity and desire to start volunteering, I was excited to discover a role as Suffolk's newsletter editor by utilising my skills from a degree in media & journalism, and living locally to Suffolk. I look forward to delivering highlights of what the team have been up to and celebrating the local achievements of the association.
Hannah Wolstenholme - Newsletter Editor

I've recently joined the Association after wanting to get involved for sometime, and an opportunity arised to work alongside my brother assisting with the newsletter. As Tom has mentioned, I'm grateful to have the opportunity to contribute to this charity, whose efforts I came to appreciate following my nans diagnosis several years ago. I look forward to learning more about the charity, helping raise awareness and presenting the successes of events and fundraisers in our local newsletter.